Community Outreach
Education Beyond the Classroom
Spanish students learn from Lexington's Hispanic community
by Jennifer T. Allen
When Susan Larson, a professor in the Department of Hispanic Studies, first came to the University of Kentucky from New York City in 2002, she had a tough time answering her students' questions about Lexington's rapidly-growing and diverse Spanish-speaking population.
"My students were asking me where the Hispanic population in Lexington came from and how they got here," Larson said. "It's taken me a few years to find some answers."
Still trying to find answers, Larson began teaching a class on Hispanic/Latino Kentucky in 2006. The class, designed for seniors fluent in Spanish, looks at the history and influence of Kentucky's Hispanic population and also includes 30 hours of service learning work in the Lexington area.
"There is an overwhelming need in Central Kentucky for Spanish speaking professionals," she said. "One of the main reasons for the class and service learning work is to introduce students to what they can do after graduation with a Spanish major in Central Kentucky."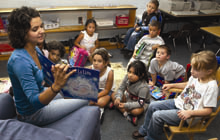 Students volunteer in a variety of locations across Lexington, as tutors in the Fayette County public school system and Lexington public library, as interpreters at the Bluegrass Farm Worker Health Clinic and Maxwell Legal Clinic, and as reporters for Lexington's bilingual newspaper "La Voz de Kentucky."
Corina Back took the class during the fall 2006 semester and volunteered in the English as a Second Language (ESL) program at Cardinal Valley Elementary School where she worked hands-on with children who needed help with basic English skills.
"I feel that I learned more from the children than they learned from me," Back said. "I am studying to become a speech pathologist, so working with children will be a huge part of my career life and this experience was my first chance to instruct children in a classroom environment. It taught me a lot."
Students choose from a large list of volunteer opportunities, with the hopes they will have the chance to work in an area in line with their future career goals, Larson said. Students have done work for the class in several areas: health care, law, journalism, church ministry, community organizing and business.
"This type of course is perfect for college students learning a foreign language who want to be able to get a jump start on learning their new skill out in the world," Back said. "This class was one of the greatest experiences I could have had as a foreign language student."
The class was such a success in 2006 that it became a permanent listing in the Fall class offerings as Spanish 480.
"The university and the students are indebted to the people with whom the students work," Larson said. "They are spending quality time with our students to help train and mentor them."
And the program's success is already evident.
"I was delighted when two of the organizations hired some of my students toward the end of the school year," Larson said.