By Erin Holaday Ziegler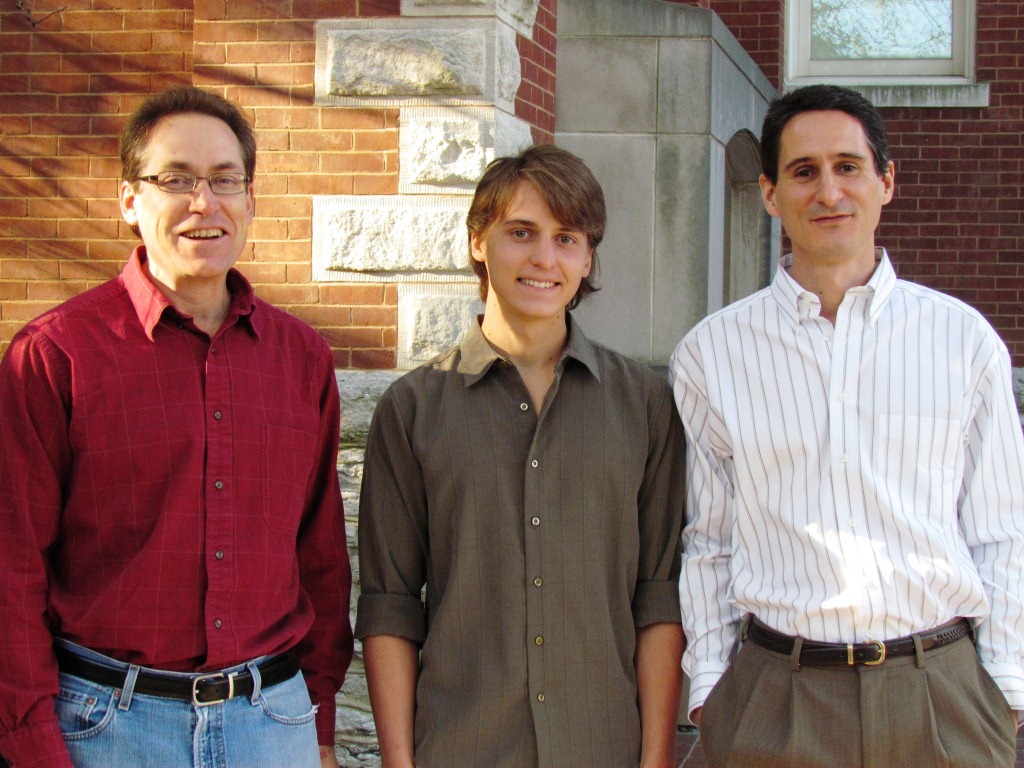 When University of Kentucky freshman Gareth Voss was a student at Lexington's Dunbar High School and was tasked with finding a UK professor to work with on a Math, Science, and Technology Center (MSTC) senior project, he never thought that a common email mix-up would have such a lasting effect on his scholarly trajectory.
At the time, Gareth Voss's dad, UK political science Professor Dennis Stephen Voss, happened to receive quite a few emails by mistake pertaining to the work of UK biology Professor Stephen Randal Voss. The unrelated email addresses are unavoidably similar.
When Gareth Voss began looking for an MSTC topic the summer after his sophomore year of high school, his father told him about the Randal Voss's genetic research on salamanders.
"I originally found out about him [Randal Voss] through my dad," Gareth Voss said. "We then went on a tour of the Voss lab and saw the salamanders. From then on, I was certain I wanted to do my project on the salamanders."
And so Gareth Voss began working in Randal Voss's lab with a team of four graduate students, four undergraduates and eight full-time employees.
"Even within one college, faculty members often have little idea of the important research being conducted by their colleagues in other programs," said Stephen Voss. "Receiving all of Randal's email messages – not to mention his grant money, which accidentally showed up in my summer paycheck one time – gave me unique knowledge of the cool work he was doing over in biology and encouraged me to recommend him."
Randal Voss agrees that the inconvenient misdirection of email messages ultimately proved beneficial.  "I've grown to learn a lot about Steve's work.  I'd love to be quoted in the media as much as he is," Randal Voss said, laughing.  "And he sees the back-and-forth of my grant funding."
Dunbar's rigorous MSTC program requires over 360 contact lab hours, but most students spend more time, according to Randal Voss. Gareth Voss was no different. The biology and chemistry major worked on salamander tail regeneration and neural tissue regrowth throughout his final year of high school.
"We created the salamanders, raised them and then measured the morphological characteristics of the tail tips after amputation," said Randal Voss. "We were using genetic approaches never used in the salamander system. Gary is very bright and a hard worker."
When it came time for Gareth Voss to decide on a college, he could have gone anywhere.
"UK offered a good education at a reasonable price that was both close to home and in the city I didn't want to leave," he said. "Also, going to UK meant I could continue working with Dr. Voss during my freshman year."
"Having my son in Randal's lab has given me a real appreciation for how much time and effort UK's scientific community puts into cultivating research capabilities within the state, not just among students enrolled at UK but also among the many local high school students interested in pursuing advanced knowledge," Stephen Voss said. "And if my son is any indication, that work pays off by retaining some of the ambitious students who otherwise might have left the state."
Randal and Gareth Voss have begun writing Gareth's high school research project this fall in hopes of publication.  Gareth Voss intends to continue his undergraduate research with the salamanders and, if possible, get a job with the axolotl colony run by Randal Voss.
"If I have anything to do with it, Dr. Voss won't be able to get rid of me until I graduate," Gareth Voss said. "I made the decision [to start working with him] the summer after my sophomore year of high school, and I haven't regretted it once."